Saturday, August 17, 2013, 10am-1pm


Montgomery Place Orchards
Make sauerkraut with Sandor Katz! Learn about the nutritional importance of live-culture ferments, as well as their illustrious history and integral role in human cultural evolution. Bring your own cutting board and knife.
Enjoy a hard cider tasting with Adam Fincke of Annandale Cidery.
This event takes place at Montgomery Place Orchards, on the grounds of the Montgomery Place Historic Site, 8 Davis Way, Red Hook, NY 12571.
$40 ($42.39 with service fee) admission includes a take-home quart of sauerkraut and a pint of hard cider.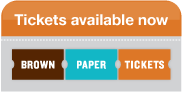 Sandor Ellix Katz is a fermentation revivalist. His book Wild Fermentation (2003), which Newsweek called "the fermenting bible," and the hundreds of fermentation workshops he has taught across North America and beyond, have helped to catalyze a broad revival of the fermentation arts. A self-taught experimentalist who lives in rural Tennessee, the New York Times calls him "one of the unlikely rock stars of the American food scene." According to the Times, "Mr. Katz has become for fermentation what Timothy Leary was for psychedelic drugs: a charismatic, consciousness-raising thinker and advocate who wants people to see the world in a new way." His latest book is The Art of Fermentation (2012).
Annandale Cider uses over 60 varieties of antique and commercial apples grown on the same land that Janet Livingston cultivated apple trees over 200 years ago. The cider is made in small batches with no preservatives or sulfates added.